A unit of learning is a component of a qualification, consisting of one or more learning outcomes declined in a coherent set of knowledge, skills and competences, that can be assessed and validated.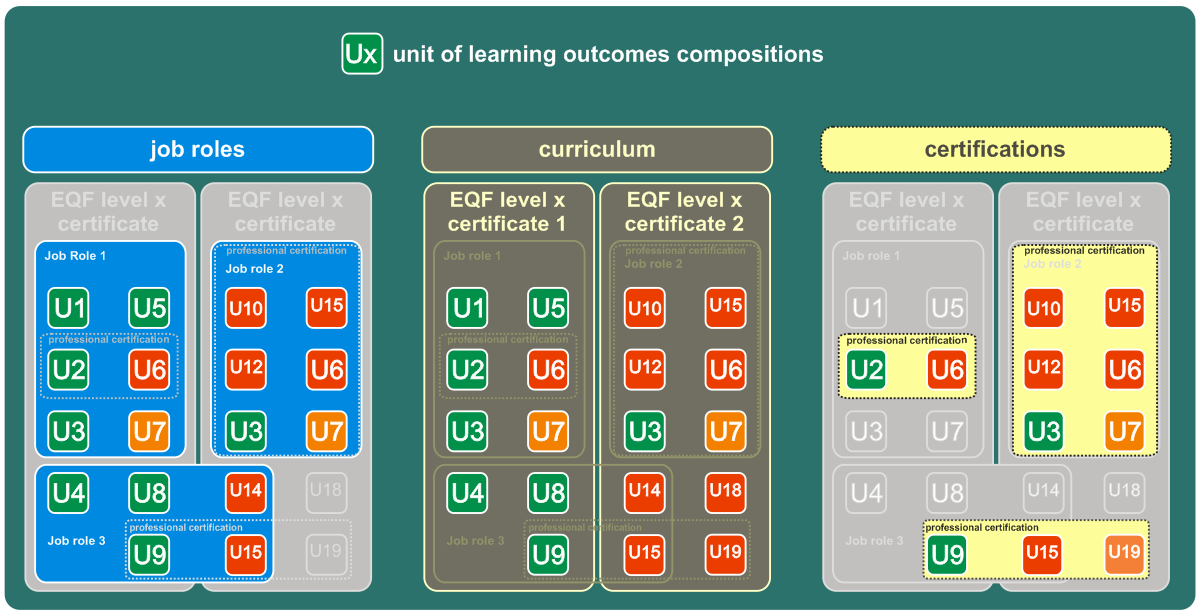 The holistic approach to the design of the learning environment is an aspect to be underlined. This approach is related to the characteristics of the training materials provided but also to the organisation of the e-learning structure and it is better understandable analysing the design of the Alliance's e-learning platform, based on Moodle.
The design of the platform aims to represent three different ways to access to the same e-learning resources through different interactive visual maps able to express the view of the industry partners, of the accreditation bodies and the view of the TVET providers.

The aim of this model is to have three kinds of conceptual maps that links dynamically the e-learning resources under three different pathways adopted to read the same training needs. The three pathways correspond to the three shapes of the Alliance's members:

the industry partners are concerned in mapping the missing job roles;

the TVET providers define the training programmes and units and

the certification bodies looks at the classification of the accreditations as a way to organize the educational pathways.

Finally, all the different interactive maps, starting from three different representations, link the learners to the same e-learning resources[1]. The above picture synthesise the three virtual maps of job roles, curriculum and certifications and the unique 'Units of Learning' present in the platform that can be linked multiple times in all the three different maps.

---
[1] This approach, inspired to an holistic view of education, has been presented for the first time by Mr Crisonà at the launching conference of Skillman Alliance in the FCA - FIAT research Centre in Turin, Italy in 2015